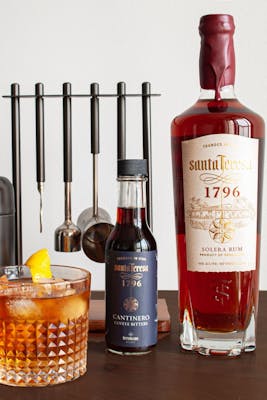 SKU: 721733000968
Santa Teresa 1796 Solera Rum With Cantinero Coffee Bitters
---
---
But back to the bitters: They're pitch black and made with molasses, sarsaparilla root, vanilla bean, and other spices. Unsurprisingly, the bitters are highly aromatic with significant notes of cardamom at the top, soon joined by cloves, sarsaparilla, dark chocolate and nutty coffee. Their smell evokes a pan full of dark chocolate brownie batter with walnuts and baking spices in the oven.
When tasted alone, the bitters prove sweeter than expected. There's still a great deal of bitterness from the spice and sarsaparilla, but that dark and fudgy note of chocolate gets central billing, even above the secondary notes of coffee that finish the experience. All in all, it had me thinking of a rich, ultra-dark cup of Mexican Hot Chocolate.
I'm a big fan of Santa Teresa 1796 rum on its own, so it was with some hesitation that I used it to make an Old-Fashioned with four dashes of the Cantinero Coffee Bitters. However, my reluctance was unearned. The bitters turned a simple Rum Old-Fashioned into a much richer and layered experience. It began with a spicy pulse of cloves and cardamom up front before delivering dark chocolate and coffee flavors that meshed beautiful with the pruny, raisiny character and dry finish that define Santa Teresa 1796.